Emergency medical & travel assistance for less than 22 cents a day. Good Sam Travel Assist. Learn More!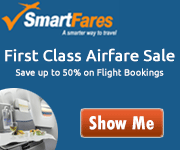 With Smart Fares, our massive collection of deals and offers, we delight our customers with the most outstanding and hassle-free booking to enjoy the luxury, leverage and perks of first class travel.
In comfort with Jet Up Front. Enjoy the ride.
Only you know when it's time to pack and go and leave it all behind. Time to unwind and enjoy the view.